Lake Nona Liposuction — The new standard in laser lipolysis
With more than 45 clinical studies and over 10 years of clinical success, our Smartlipo Triplex Workstation has remained the leader in laser lipolysis. Smart Lipo offers you the optimal lipo treatment any patient deserves — both safe and highly effective, this outpatient procedure provides incredible results with minimal downtime. Learn more about this and other treatments we offer at our
Lake Nona med spa
.
†Models used for illustrative purposes only. Individual results may vary and are not guaranteed.
Designed with your needs in mind
This flexible system offers 1064nm, 1320nm and 1440nm wavelengths which can be used in single or blended mode. By customizing the wavelengths based on the treatment and patient type, Smartlipo Triplex offers:
Tissue retraction through soft tissue coagulation1
Reliable, controlled energy delivery
Reduced liposuction procedure time and patient downtime
Less bleeding and bruising than traditional liposuction
Intelligent delivery. Optimal outcomes.
Additional technology incorporated to increase safety, optimization and satisfaction:
SmartSense™ Delivery System distributes precise energy by measuring motion and delivery of laser power.
ThermaGuide Temperature sensing cannula provides temperature feedback to deliver the appropriate level of laser energy.
1Intended for the surgical incision, excision, vaporization, ablation, and coagulation of soft tissue.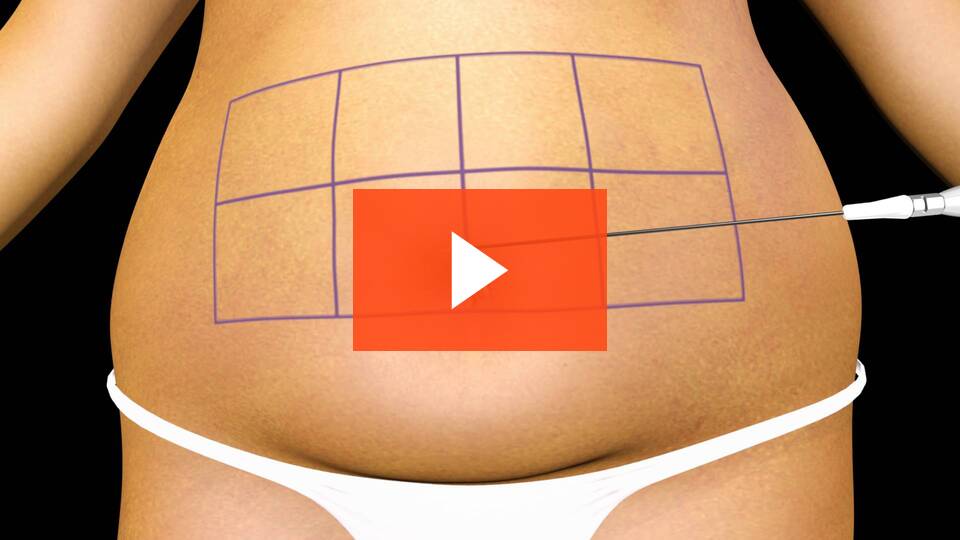 Frequently Asked Questions
How does the Smartlipo Triplex Workstation work?
Smartlipo Triplex is designed exclusively to perform laser-assisted lipolysis, commonly referred to as laser liposuction. A very thin tube containing the Smartlipo laser fiber is inserted in targeted fatty areas through a small incision. The laser fiber delivers thermal energy directly to fat cells and disrupts the fatty tissue, allowing the fat to be easily removed through gentle suction. The tissue around the area tightens through coagulation, contributing to an overall smoother shape.
What areas can be treated with the Smartlipo Triplex Workstation?
Smartlipo Triplex delivers precision and versatility with wavelengths that are ideal for smaller and larger fat deposits, fibrous areas, or areas that need secondary liposuction.
What should a patient expect after a treatment?
Patients may experience some light bruising and swelling and will be required to wear a compression garment to help with the healing process and support the area treated. In most cases, patients are able to resume normal daily activities within a day or two.
Who is a good candidate for SmartLipo?
Smartlipo is ideal for any patient who is looking to reduce stubborn fat deposits and achieve a slimmer, more contoured physique. Ideal candidates should be in good overall health and have realistic expectations about the outcome of treatment.
What are the main benefits of SmartLipo?
There are many benefits to this form of cosmetic surgery, including:
Minimally invasive – much less invasive than traditional liposuction.

Less pain and discomfort – patients report feeling only a mild tingling sensation during the procedure.

Reduced recovery time – most patients are able to resume normal activities within a day or two.

Natural-looking results – the fat cells that are removed are not replaced, so results are long-lasting.
What is the recovery time for SmartLipo?
Most patients report only mild discomfort after the procedure and are able to resume normal activities within a day or two.
When will I see results from SmartLipo?
Patients typically see a noticeable improvement in their appearance immediately after the procedure. However, it can take around 8-10 weeks for the skin to tighten around the newly sculpted area.
Is SmartLipo safe?
Yes, Smartlipo is considered a safe and effective treatment option is performed by a board certified plastic surgeon. The risks associated with the procedure are similar to those of traditional liposuction, which mainly include bruising and swelling.
Can SmartLipo tighten your skin?
SmartLipo is a type of plastic surgery often used to tighten loose skin in certain areas, such as the face or neck. One of the benefits of laser liposuction over traditional liposuction is that it also promotes new collagen growth, which can help improve skin elasticity and reduce laxity.
Do I need to follow any specific diet or exercise plan after SmartLipo?
There isn't a specific diet or exercise plan you need to follow after your SmartLipo treatment. However, maintaining a healthy lifestyle by eating a nutritious diet and exercising regularly can help you achieve the best results from your procedure.
What SmartLipo Can Do For You!
If you're considering SmartLipo for body contouring, be sure to speak with a qualified, board certified provider about whether this treatment is right for you and what results you can expect. To learn more about SmartLipo and find out if it might be an option for you, schedule a consultation with DIME Medical Artistry today!
When performed by an experienced, skilled surgeon, SmartLipo can provide safe, effective results with minimal downtime. However, as with any surgical procedure, there are some potential risks and side effects associated with SmartLipo, including swelling and bruising at the treated site or on the surrounding skin. It's important to discuss these risks with your doctor before deciding whether to undergo SmartLipo.
If you're interested in learning more about the benefits of SmartLipo, DIME Medical Artistry is here to help! We offer a wide range of cosmetic treatments for women and men in Lake Nona and surrounding areas ranging from SmartLipo, painless laser hair removal, radiofrequency microneedling, smooth and lifting threads, dermal fillers, BOTOX® and much more. To get started, schedule a consultation with one of our skilled physicians in Lake Nona or Orlando FL today!